Community Health Interventions and Education:
Health Initiatives for Economically Disadvantaged Population Living in Urban Slums for Non-communicable Diseases:
Team of DFI, for the first time, highlighted
in slum dwellers and advised preventive measures.



Largest Campaign Against Childhood Obesity in South Asia:
The community health initiatives undertaken by DFI involve the activities of education of schoolchildren, teachers and parents regarding diabetes and obesity.
Three large-scale multi-centric intensive health education programs
'MARG',

The MARG program (funded by World Diabetes Foundation, Denmark) is the first large scale community intervention project in South Asia which focuses 100% on primary prevention of not only diabetes, but also on non-communicable diseases in general.
(http://www.worlddiabetesfoundation.org/composite-1279.htm)
Dr. Priyali Shah at MARG lecture
Children chefs at the inaugural function of "MARG" at
Delhi Public School International, New Delhi.

Recent update on MARG Program
A visit by 7 media persons was experienced by the schools initiating MARG in New Delhi. The following persons along with their respective publications are mentioned below:
Navbharat Times Delhi - Ms Neetu Singh -India
UNI-Varta - Ms Arati Kapoor - India
Dainik Jaigran - Mr.Ashutosh Kumar Jha - India
Dainik Jagran, Punjab - Mr Jagdish Kumar - India
Bihar Times - Ajay Kumar - India
The Daily Prothom Alo - Dr Md. Iqbal Kabir - Bangladesh
Media Indonesia - Ms Rosmery Hutomo Sihombing - Indonesia

The visits were planned in government and private schools initiating MARG. The children participated in various educative activities wherein they disseminated information on prevention of obesity and diabetes amongst their peers. These activities were fun filled such as drama, skits, cookery, healthy snack making, poster making, extempore competition etc. These activities clearly demonstrated the ways in which MARG is spreading awareness amongst all.
Tagore International School, Vasant Vihar disseminated messages on western and Indian junk foods to their peers by enacting 2 skits. The skits also showed how unhealthy and erratic eating could be causes for non-communicable diseases as diabetes. The activity was organized by students of classes 6 – 8.
St Paul's School, Safdarjung Development Area organized an interaction with the student volunteers who are peer educators of the school. Through various activities, like drama and healthy recipe demonstration, these educators / volunteers demonstrated how unhealthy eating and no physical activity can affect the health of the young generation, the school children. They even showed how unhealthy foods brought in the school tiffins can affect their health. The media persons were also introduced to the canteen of the school where as a decision of the school management, the unhealthy foods sold were replaced by healthy Indian lunch foods. The activity was organized by students of class 11.
Visit to the government schools observed a very enthusiastic participation by the students in activities of healthy food making competition, poster making competition and extempore competition. These activities were organised by teacher and student volunteers of the school who have taken the initiative for the sustainability of the project. Cooking competition observed a variety of preparations by the children. These included preparations utilizing fruits, vegetables, brown bread, healthy fruit drinks, curd, etc. Posters made by the children were very colourful and displayed messages on healthy and unhealthy foods, importance of physical activity in daily life, dietary impacts on causation of diseases, etc. At the extempore competition, the children confidently spoke on the topics like balanced diets, importance of fruits and vegetables in daily diet, diabetes, obesity, fitness and fatness, ways to improve your health status, etc. These activities were organized by students of classes 6 – 9.
Overall it was a fun filled day wherein it was clearly demonstrated that through the school approach, we can very conveniently spread the awareness messages to all without disturbing the academic schedule of the curriculum.
Diabetes Foundation (India) and Rotary Club of Delhi South-East, through the Rotary South-East Charitable Foundation have initiated CHETNA-- "Childrens' Health Education Through Nutrition and Health Awareness", a program for the prevention of obesity, diabetes, and heart disease, in order to inculcate healthy lifestyle and nutrition habits in school children, the first such program of its kind in India. This program aims to impart health education on the above issues through lectures, posters, group discussions with children, parents and teachers, and by conducting health camps. Our main aim is that each child should be made aware of a healthy lifestyle so that he/she does not suffer from obesity related disorders like diabetes and heart diseases later in life.
| | |
| --- | --- |
| | |
| Swati Bhardwaj giving a lecture | Poster Making Competition |
'TEACHER'

Another multi-centric project by DFI being undertaken in schools is Project TEACHER (Trends in childhood nutrition and lifestyle factors in India), covering 4 major cities of India to obtain in- depth understanding of nutrition and lifestyle behaviors that affect the health and well being of urban Indians , particularly children, through detailed knowlege attitude and practice survey questionnaires, group discussions and anthropometric measurements of children and their mothers
| | |
| --- | --- |
| | |
| Anthropometric measurements | Mrs Rekha Sharma, Secretary, DFI |
Anthropometric measurements for schoolchildren in Delhi and several cities of northern, western and southern India have been initiated and are being carried out. The children are given correct diet and physical activity advice, and made aware of the various chronic diseases with emphasis on diabetes, obesity and heart diseases which are due to incorrect lifestyle. These programs aim to create awareness about diabetes, obesity, lipid disorders and heart disease, and to act as agents of change for healthy living in society.
Dr. Seema Gulati interacting with mothers
of children

Dr. Misra and Mrs. Rekha Sharma
with Principal, KV INA
These programs are expected to cover almost
150,000 children, and are being expanded to include
9 more cities in India, to cover 500,000 children,
making it the largest initiative against childhood obesity and prevention of diabetes in south Asia.
A Major Health Education Program Focusing on Women's Health and Nutrition:
With the help of a grant from the Department of Science and Technology, this project has been initiated in 8 cities in India. In this project, women in the age more than 30 years are targeted for proper nutrition and lifestyle advice and early detection of various diseases such as diabetes, obesity, heart problems and cancer. This is the first nutritional education program in India focusing on middle aged and elderly women.

Mass awareness camps towards early detection and proper treatment of diabetes among general public as well as among the medical and para-medical fraternity has been initiated. Several diabetes health camps have been organized for poor people at Delhi, UP and Haryana and given medical counseling, medicines and insulin free of charge. The aim of these interventions is to spread awareness about high-risk early screening for diabetes.


Events:
'Independence From Diabetes'
'Independence From Diabetes' was organized as part of PANKH event, on 14 August 2007 on the eve of India's 60th Independence Day at the Indian Medical Association, New Delhi, and was attended by schoolchildren and media representatives in large numbers, as part of a month-long endeavor to create mass awareness towards Diabetes, Obesity and Heart Disease.
Dr. Anoop Misra speaking at the event, while
Ms. Manjushree Roy, Director, SAI and former
Hockey team captain, Mr. Zafar Iqbal, look on

Children at the Independence from Diabetes event
''Ban on Commercial Use of Trans Fats'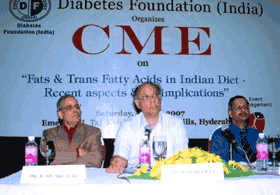 Panel Answering The Queries
Experts of DFI and Health Essayists and Authors' League (HEAL) organized two workshops on "Fats and Trans Fatty Acids in Indian Diets - Recent Aspects and its Implications', at Delhi on 10 April, 2007 and Hyderabad on 9 June, 2007, calling for a complete ban on Trans-fats for commercial use.

According to

Dr. Anoop Misra

, 'Trans fatty acids are one of the strongest poisons affecting human metabolism today.' Trans Fats are found in fast food products made with hydrogenated oil in an unregulated market, a time bomb waiting to explode, even as the Union Health Ministry is contemplating for processed food manufacturers to list the Trans-fat content on nutrition basis.

Diabetes Foundation India,
Plot No. 3 Pocket B-11, Vasant Kunj, New Delhi 110070 INDIA
Tel: +91-11-4134 5550
info@diabetesfoundationindia.org
Diabetes Foundation (India) (Regn no.- S/16551/8) is a non-profit organisation registered under the Societies Registration Act, XXI of 1860 on 24 April 1986. FCRA approved. All donations are exempted according to the Income Tax Act 80 G of the Government of India.